Don't have time to wait for your nails to dry? Drip Dry is for you – one drop on each nail and they are touch dry in 60 seconds, completely dry in 5 minutes! You don't need to sit for ages in front of a fan or in case of a salon, sitting near the nail dryer for 10 minutes or so. It also treats your cuticles with Jojoba and Vitamin E. This product work great with OPI brand nail polish, the only best brand that we use in our salon.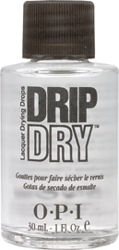 normally $23, now $18
DIRECTIONS:
After completing your manicure, wait 60 seconds then apply 1-2 drops of OPI Drip Dry to each nail. Wait 5 minutes for the polish to dry completely, then massage any excess into your cuticles.
INGREDIENTS:
Silicone, jojoba oil, vitamin E